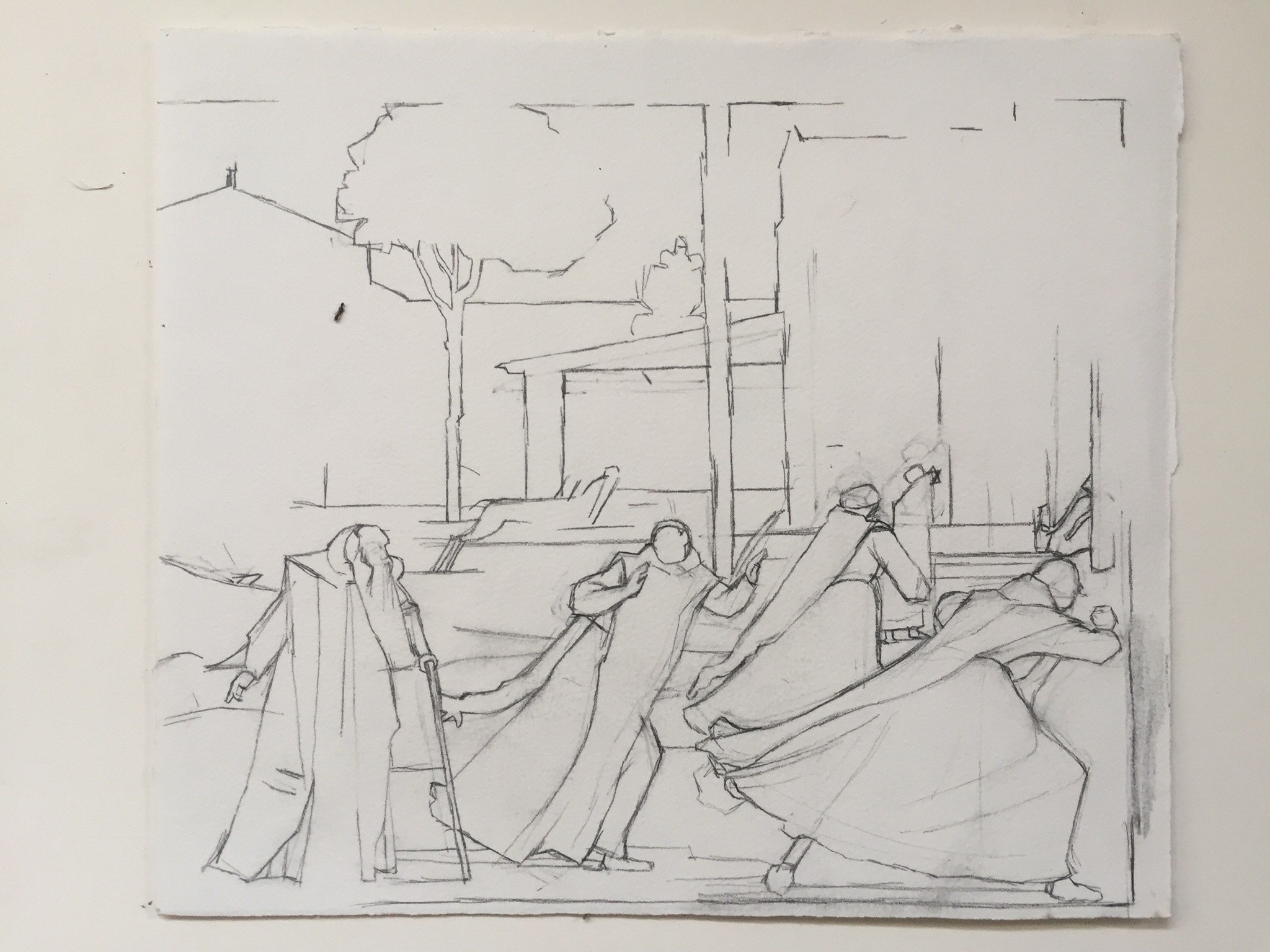 TRANSCRIBING THE MASTERS  is a 6 week online class with Fran O'Neill!
The act of drawing from masterworks is a powerful tool in learning.  In this class Fran will present you with a different work of personal significance each week and guide you through the process of transcribing the piece.  You will learn a deeper understanding of underlying connections in the work such as geometry, rhythms, and structure will all be explored using the direct observation drawing.
Begins Wednesday 27th October
6 weeks
7 – 9pm AEDT
Tutor: Fran O'Neill
Location: Online
PLACES ARE LIMITED
$260 / $220 Concession

TRANSCRIBING THE MASTERS IS SUITABLE FOR
Beginners to experienced
ZOOM
– Transcribing the Masters is hosted on zoom, if you haven't used zoom before please create an account prior to class
– The call link will be listed in Slack
SLACK
– You will receive an email invite to Slack
– This is a private forum where Fran will share resources and you can upload your drawings
* If you book with a deposit the balance will be processed 13th October
YOU WILL NEED
– Variety of grey lead pencils
– Charcoal
– Glue (Matt or Gloss medium)
– Sumi ink
– Variety of brushes (flat, round, calligraphic)
– 5 Sheets (22" x 30") cold press paper
– Ruler
– Erasers (at least 4-5 steadler)
– Scissors
– Push pins
TUTOR PROFILE
An Australian-American, Fran O'Neill, was born in Wangaratta, Australia, and currently lives and works between Australia and Brooklyn, New York.
O'Neill attended Monash University, Melbourne, Australia, earning a BFA and Post Graduate Degree.  Her post-graduate work continued at the New York Studio School's Certificate Program, and her MFA was completed at Brooklyn College in 2012.  In 2007 she received a Joan Mitchell Foundation award. O'Neill's solo exhibitions include at: Sears Peyton Gallery, NYC; Hathaway Contemporary, Atlanta, GA; West End Gallery, Melbourne, Australia; David Schweitzer Contemporary, Bushwick, NY; Miller Gallery, Cincinnati, OH; BMG Gallery, Adelaide, Australia; TW Fine Art, Brisbane, Australia; Life on Mars Gallery, Brooklyn, NY, John Davis Gallery, NY; New York Studio School, NY; and Sussex College, Hastings, UK. In 2016 her work was exhibited at MOCA in Jacksonville, FL in a group exhibition titled Confronting the Canvas: Women of Abstraction.
O'Neill's work has been included in various group shows throughout the USA and in Australia.  She has recently taught at the New York Studio School, Arts Students League and Pratt Institute.
Her work resides in private collections in the USA, Australia and UK, and in the permanent collection of MOCA Jacksonville, FL.