The Art Room is an independent art school offering a unique and holistic learning program that helps students to achieve their personal and professional goals. We are run by artists for artists.
We work with emerging and experienced students from a range of backgrounds and qualifications to not only enhance their technical and conceptual skills, but also provide them with essential support, resources and connections to be the best artist they can be.
Students come to learn with us for tailored professional development, preparing for university to get a head start on their education and to develop successful art careers post university. Students describe walking away from our programs with a full toolkit, including achieving personal growth as an artist. They also develop meaningful and lifelong relationships.
We pride ourselves on providing a learning environment that is respectful, generous and nurturing for those who are invested in long term development.
Art is our world and we passionately love to share what we know and what drives and excites us. We see ourselves as being the link between different phases of your journey.
We are a place to come for guidance and development, conversation and connection, support and inspiration. You will be encouraged to think and see differently, to build your confidence, to be challenged, to take risks, to feel safe to fail, and above all to be supported in all aspects of your artistic journey.
The Art Room is YOUR studio! With lots of lovely natural light, loads of space to spread out in, all studio equipment, a library of books and journals, lovely communal social spaces. The Art Room is a wonderfully inspiring space to create, learn and connect in.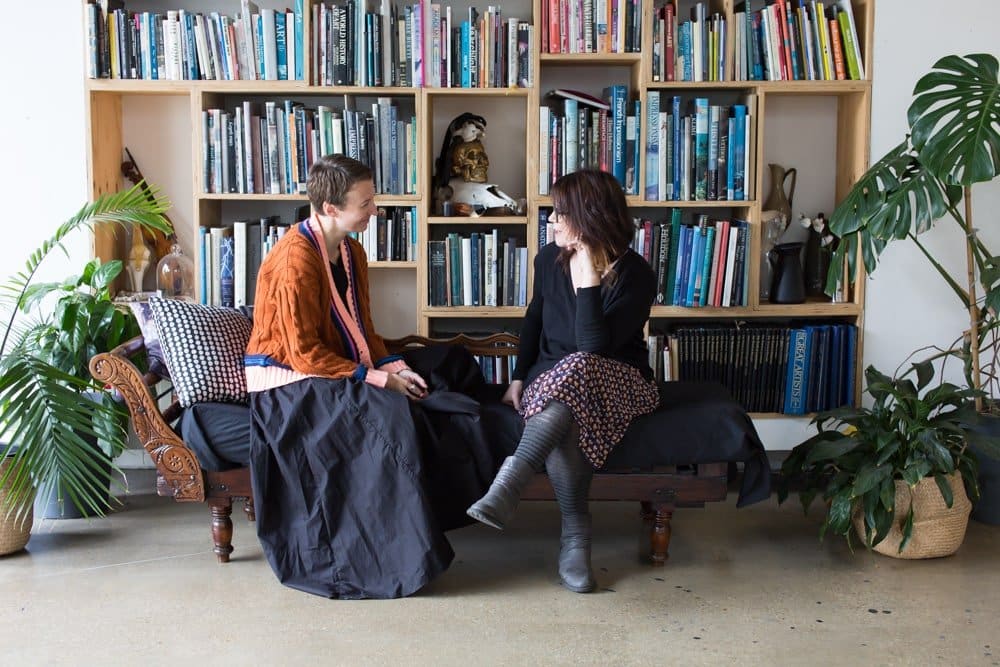 Erika Gofton established The Art Room in 2009 and our school and community has organically grown over the last 10 years to where it is today.  Ilona Nelson has been working with Erika for 7 years and in 2018 they officially became a partnership.
ERIKA GOFTON has a Bachelor of Fine Arts Degree and Post Graduate Diploma of Education (secondary) from the 
University of Tasmania. She has exhibited in numerous group shows and had solo exhibitions in Melbourne, Sydney and Queensland. She has been a finalist in the EMSLA, Sunshine Coast Art Prize, Mosman Art Prize, R & M McGivern Prize, Redland Westpac Art Prize, twice in the City of Albany Art Prize (winning peoples choice), and the Williamstown Contemporary Art Prize. In 2012 Erika won the $10,000 Toyota Community Spirit Travel award which enabled her to undertake a residency at Point B Worklodge in Brooklyn, New York. Whilst there she was awarded a part scholarship for the New York Studio school to complete the Spring Drawing Marathon.
ILONA NELSON is an artist and curator.  She's interested in making work that encapsulates honesty and truth, and searches for these qualities within our paradoxes.  Ilona works predominately with performance and photography but also incorporates installation and film.
Ilona completed a Bachelor of Fine Arts Degree (majoring in photography) with distinction in 1998, since then she's exhibited extensively and has been selected in numerous prestigious prizes throughout Australia.  Her work has been featured in many publications including The Age, Frankie, Haper's Bazaar, Artist Profile, Art Alamanac and Art Guide.  Her work has been acquired by Bendigo Art Gallery and private collections in Australia and America.
Alongside her practice she has also created and curated a long term project called This Wild Song (TWS) which is a series of conceptual photographic portraits of Australian female visual artists who have a unique voice.  TWS celebrates the artists through these portraits plus interviews, exhibitions and events.