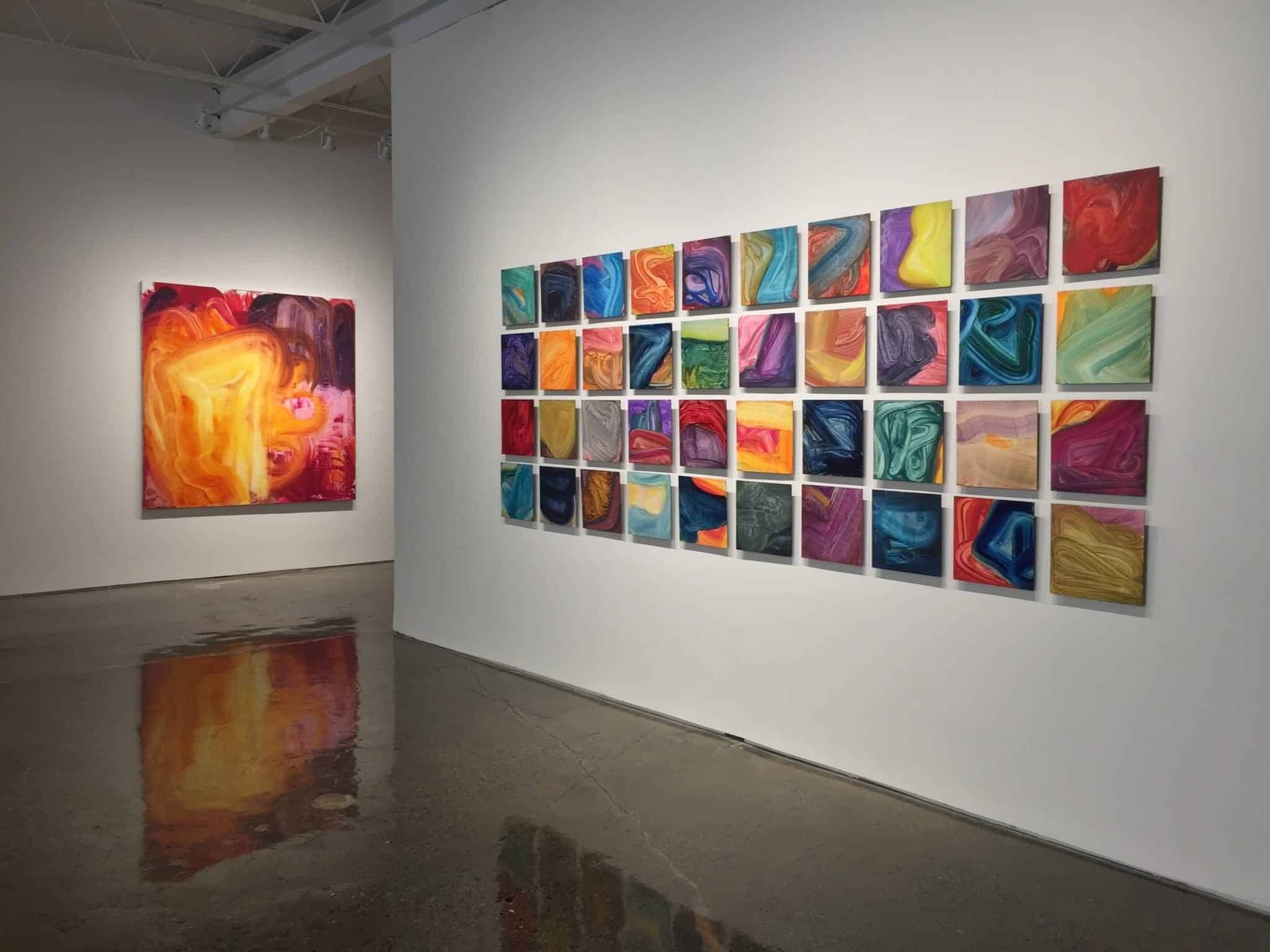 We are thrilled to present ROOM WITH A VIEW, a 3 day painting intensive with Fran O'Neill.
In this online workshop you will look for the possibility of landscape within your own limitations in this unique and challenging time.  For some it may be a view out of your window, or if you're able to access landscapes it may be far reaching and wildly diverse: vista views of rolling hills; dense bush; backyards; cityscapes, close ups of shrubs and 'tree portraits' just to name a few.  Equally the time of day and weather conditions can be just as extreme and different.
You will explore how to make the most of your own circumstances and consider changing light conditions; from morning to evening, to cloudy, to full sun.  This will enhance your own vision allowing you to explore what truly interests you and consider variations in composition. Fran will provide guidance to ensure that you have an appropriate view, with the hope you'll be able to work outside from direct observation.
You will be challenged to explore image making, concentrating on composition, form, value and hue.  During this rigorous class you will also explore color mixing and be challenged to consider the metaphor of color, via the use of limited palettes.  Highly individual critiques will take place via zoom meetings, with additional group critiques throughout the sessions to enable students to learn from one another and to increase their ability to read paintings.  This marathon workshop is designed for all wanting to invigorate their painting practice, break out of their comfort zone and expand their visual vocabulary.
Class Outline
9am – Zoom meeting with Fran sharing contemporary and historical landscape works, and/or discussing previous day's work and set the 'limited palette/exercise' for the morning.  After the initial discussion you can log off zoom and paint on your own, knowing that Fran may request to check in with you – especially on first day.  You can request to meet with Fran if you are stuck.
12:30 – Lunch
1:30 – Meet back via zoom to check in with a new limited palette, and/or begin with a quick critique of the morning's work.  Again, Fran will check in with each of you and you can request to speak with her.
On the last day the afternoon session will be spent looking more thoroughly, with further discussions about your work and strategies to move forward.
Learning Outcomes
From a continued, consistent and committed practice on a daily basis of working from observation, you will increase your ability to handle paint, understand temperature of colour, and find metaphors particular to you from your experience of looking.  The ability to work outdoors in various conditions will be an added bonus.  It is expected that you will expand and broaden your vocabulary in terms of your ability to discuss and understand not only your own work, but that of others.
Assessable Tasks
Whilst it is suggested that you will produce up to 12 works during the week, this number may vary depending upon the work pace of each individual, and engagement of the projects.
Readings and Resources
A small "suggested only" reading list will be provided to all students on the first day.
3rd – 5th February
3 days
9am – 5pm AEDT
Tutor: Fran O'Neill
PLACES ARE LIMITED
$450 / $410 Concession
YOU WILL NEED
– Smart phone or camera for taking images
– Zoom account
MATERIALS LIST
You have the option of working in oils or acrylics.
PAINT (in order of placement around the palette)
– Flake White
– 
Titanium White
– Lemon Yellow
– Cadmium Yellow Medium
– Yellow Ochre
– Cadmium Red Light OR Medium
– Alizarin Crimson
– 
Quinacridone Magenta
– Caput Mortem Violet  OR Indian Red
– Windsor Violet (W&N) (Dioxazine Violet)
– 
Ultramarine Blue
– Cobalt Blue
– Cerulean Blue
– Viridian
– Cadmium Green Deep
– 
Terre Verde
– 
Raw Umber
– 
Ivory Black
– Peach Black
IF WORKING WITH OILS
– PLEASE ENSURE YOU HAVE A WELL VENTILATED SPACE. THIS IS CRUCIAL
– Largest hand-held palette to be varnished with 2 coats shellac OR 6 coats linseed oil
– Odorless Turpentine in sealable containers (you will need to store in either glass or metal containers, anything made of plastic will dissolve due to the turpentine)
– Baby oil for cleaning brushes
IF WORKING WITH ACRYLIC PAINT
– Variety of plastic containers for storing mixed paints
– Plastic palette
– Spray bottle with water (to keep paints from drying out)
CANVASES *All sizes are suggested
– 3 small canvases – roughly 14" x 18"
– 2  small canvases – roughly  18-28″ x 24-34′ range
– 1 canvas roughly 30" x 48"
Preference is given to working on canvas as opposed to "paper sheets of canvas", this will be discussed during the first lesson.
GENERAL
– Drawing paper, pencils and charcoal
– Jar with medium: 1/3 turpentine + 1/3 Dammar + 1/3 Linseed Oil
– Jar with Turpenoid
– Baby wipes for cleaning hands and palettes in the field
– Plastic wrap for palette storage
– Scissors
– Rags and/or paper towels
– Brushes, a large selection of rounds from small sable to large house painting rounds
OPTIONAL
Watercolours, palette and paint tubes or pans, watercolour paper or block
*KEEP ALL RECEIPTS FOR MATERIALS
In case materials are not used, you may (depending upon store policies) be able to return items unused and in pristine condition.
If you book by paying the deposit, the balance will be processed from the same card on January 18th.
TUTOR PROFILE
Fran O'Neill holds dual citizenship in the U.S.A. and in Australia, dividing her time between Australia and New York.  She teaches at the New York Studio School, Seattle Art League and National Art School in Sydney.
Fran works with students to solve the issues they encounter as she orients her teaching to both the individual and to the needs of both the group; she builds on the master artists of both past and present in a creative and deeply thoughtful manner, and she generously shares the wisdom she has gained in her years as a dedicated artist.
Fran's work is represented by the Sears Peyton Gallery, NYC; West End Art Space, Melbourne and TW Fine Art, Brisbane.  Firmly grounded in drawing from life, she maintains those fundamentals as she focuses on her abstract work.  Her paintings are in corporate, museum and individual collections.