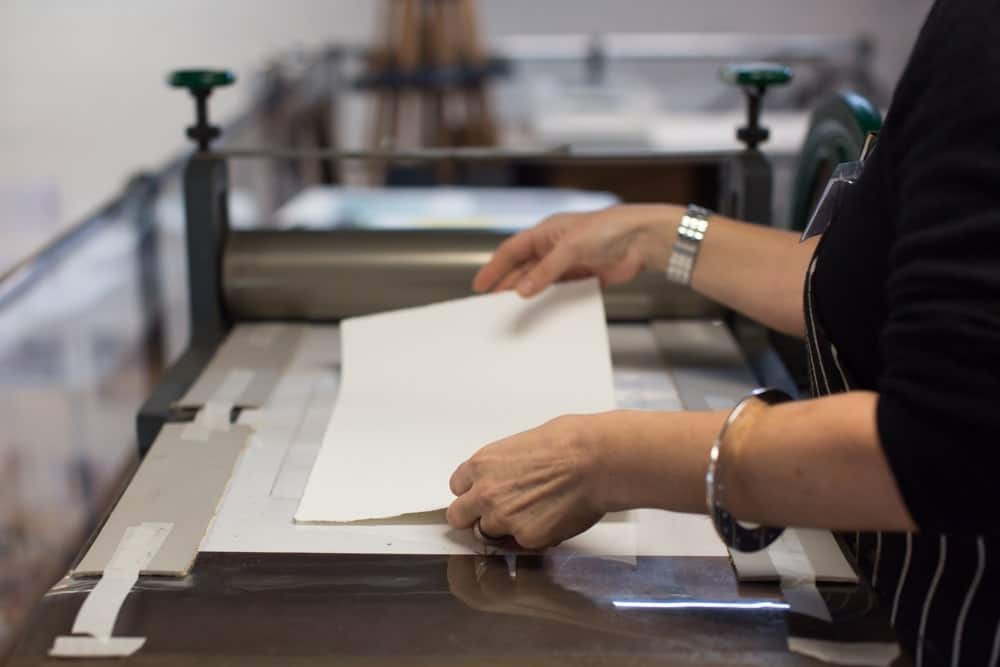 The LINO PRINTING WORKSHOP is a 4 week class where you'll learn various image transfer and cutting techniques, multiple ways a linocut can be printed, with or without a press.
Linocut prints have long held their own position as a versatile and interesting print medium.  And who said linocuts had to be black and white?  You will also learn a variety of techniques transforming the basic black and white linocut into a multi-coloured print.
Linocuts are a fantastic medium to work with if you do not have a printing press but still like the possibility of making multiple images that have no size restriction.  This workshop gives you the opportunity to extend your knowledge of lino cutting and the versatility of colour prints.
Begins Monday 24th May
4 weeks
Tutor: Marieke Dench
6:30 – 9:30pm
PLACES ARE LIMITED
$380 / $340 Concession
*BOOKED OUT*

LINO PRINTING WORKSHOP IS SUITABLE FOR
Beginners to experienced
WE PROVIDE
All materials and tools
PLEASE BRING
– An apron
– Personal source images: sketchbooks, drawings, books
– Notebook and black fineliner
– Any brushes you may have
*If you book with a deposit the balance will be processed May 10th
Marieke Dench is a nationally recognised artist with a practice that encompasses painting, encaustic painting, printmaking, drawing, sculpture and architectural installation. She has a Fine Arts Degree from the Victorian College of the Arts (VCA), a 1st Class Honours Degree in Fine Arts from the Royal Melbourne Institute of Technology (R.M.I.T) and a Diploma in Education from the University of Melbourne (receiving the award for Practical Teacher of the Year).
Marieke has a reputation for approaching two-dimensional material with a sculptor's eye. Her works hover between the object and the description of an object and/or concept.  Dench's ongoing interest in image making and how humans navigate through a diverse and wide range of situations and locales brings forth intellectually challenging and engaging works.
Marieke has worked as a master printer in many of Melbourne's leading publishing houses and has been the recipient of a Collie Trust Scholarship as well as winning a number of awards, including the Silk Cut Award and the Shell Fremantle Print Award.  Dench has also worked in the Visual Arts Departments of all Melbourne's major and some interstate tertiary institutions: V.C.A., R.M.I.T., U.S.Q. and N.M.I.T. and is extremely well regarded in delivering art education of the highest quality.